(Banner image: by Charles Green.)
By the members of the #DickensClub, edited/compiled by Rach
Friends, what a "Thunderbolt" of a read this week! Poor Floy! Losing her second mother, and then having that definitive rebuff from a father that always refused to "see" her, except with dislike or envy. What was your reaction to Chapter 47? Dr Christian and I talked about it as one of Dickens's best chapters.
The discussion this week centered around characterization–Dombey, Mr Toots, Edith–and around Dombey and Son as a "women's novel." What are your thoughts on that?
There's so much to wrap up. Here are a few quick links:
General Mems
If you're counting, today is Day 434 (and week 63) in our #DickensClub! This week, we'll be on the fourth week of Dombey and Son, our fifteenth read of the group. Please feel free to comment below this post for the fourth week's chapters, or use the hashtag #DickensClub if you're commenting on twitter.
Reminder: SAVE THE DATE! Our next Zoom group chat (on Dombey and Son) will be held on Sat, 25 March, 2023, 11am Pacific / 2pm Eastern / 6pm GMT. I will be sending out the zoom links. Please email me (or message me on twitter) if you're interested!
Please email Rach (or message her on twitter) with a short bio (a few sentences at most–e.g. your background/interests, and/or favorite Dickens novel!) and an image that you'd like to share–whether of yourself, your avatar, or of a favorite Dickens character, for our new page on our Club authors and contributors!
No matter where you're at in the reading process, a huge "thank you" for reading along with us. Heartfelt thanks to our dear Dickens Fellowship, The Dickens Society, and the Charles Dickens Letters Project for retweets, and to all those liking, sharing, and encouraging our Club, including Gina Dalfonzo, Dr. Christian Lehmann and Dr. Pete Orford. Huge "thank you" also to The Circumlocution Office (on twitter also!) for providing such a marvellous online resource for us.
If you've been reading along with us but aren't yet on the Member List, we would love to add you! Please feel free to message Rach here on the site, or on twitter. And for any more recent members or for those who might be interested in joining: the revised two-and-a-half year reading schedule can be found here. For Boze's marvelous intro to our current read, Dombey and Son, please click here. For a supplement to the introduction from Peter Ackroyd that Chris shared with us, click here. For the open source Dickens's Working Notes for Dombey and Son, click here.
Dombey and Son, Chs 32-48: A Summary
Mr Toots, seeking Solomon Gills but finding Captain Cuttle at The Wooden Midshipman, desires better acquaintance with the Captain when Toots realizes that the Captain, too, views Floy as an "angel." Unwillingly, Toots shares the news he has recently read: the remains of a destroyed ship, the Son & Heir, have been discovered by another vessel, though no bodies were found. Captain Cuttle, at last, has lost all hope of seeing Walter again.
Cuttle visits Carker again, and is all but cast overboard by his surprise at Carker's feline, smiling indifference to everything, including the news of the ship, as he dismisses Cuttle and tells him to, effectively, get the h— out.
We then see two contrasting pictures of houses: that of Carker the Manager—cold in all its comfort—and that of his brother John, poor but warmed by the fidelity of their sister, Harriet. Harriet is visited by a mysterious older stranger, a man who, somehow, knows the history of John Carker, and takes an interest in the brother and sister. Though the man has not given his identity, there is a mutual trust between Harriet and the stranger, and he asks her to allow him to pass by the window of a Monday morning, just to reassure himself that he is alright, and to be a silent witness that she always has a friend who is happy to do her a service.
Harriet then encounters another mysterious stranger, a proud, disdainful woman—handsome, about thirty—who appears to be destitute & whose feet are torn with her wanderings. Harriet invites her in to bind up her wounds. Harriet gives her money, and the woman goes upon her way, to find her mother in the wilderness of London.
We come to find that the destitute woman's name is Alice Marwood, and she has little affection for her mother, "Good Mrs Brown," feeling how much her mother is responsible for her difficult life and imprisonment. Good Mrs Brown alludes to having taken items from Floy Dombey years ago, since she has seen "him" (by this, we understand: James Carker) in Dombey's presence often. Alice, enraged at the very idea of this man who had wronged her, comes to find out Harriet's relation to James, and, in her disdainful pride, trudges her way back to Harriet's to throw Harriet's money upon the ground in front of her and John, trampling upon it and cursing them.
"Were this miserable mother, and this miserable daughter, only the reduction to their lowest grade, of certain social vices sometimes prevailing higher up? In this round world of many circles within circles, do we make a weary journey from the high grade to the low, to find at last that they lie close together, that the two extremes touch, and that our journey's end is but our starting-place? Allowing for great difference of stuff and texture, was the pattern of this woof repeated among gentle blood at all?"
But the Dombey house is still not made a "home" with the inclusion of Floy's new mother in it. Edith is proud and haughty to all but her. With Floy, however, Edith's icy demeanor always thaws, and they spend a good deal of time together. Even the social circles brought together by Mr Dombey and Edith are ill-assorted and uncomfortable with one another, and all appear to be conscious of the fact that this is a loveless marriage of convenience.
Carker, whom Edith feels sees her with complete plainness, comes to speak to Edith about Floy, threatening with false sympathy that, if Mr Dombey knew the degree to which Floy associated with those of lower station as Floy had done with Walter, Dombey would cast her even further from him. By this means, Carker suggests that, if Edith will but request him to keep silent, he would do so (under the pretense that Dombey and Edith are of such a united mind that a command coming from her is as good as a command coming from him). In reality, however, Carker is trying to get into her confidence—almost, into a silent conspiracy with her by this means, and, in a subtle way, showing his power with her. She answers haughtily, but he can see that his words about Floy are not without their effect.
Meanwhile, Mrs Skewton survives a stroke, and complains more and more of Edith's lack of love and devotion, and begins to confuse names, words, etc.
Miss Tox has no vindictive feelings about her treatment from Louisa, but, still saddened by her separation with the Dombey family (which had been the sun that her life had circled around), she decides to get reacquainted with "Mrs Richards" (Polly Toodle), as Polly occasionally has news from the servants at the Dombey household, and it would be pleasant to talk about the goings-on. Miss Tox offers to teach Polly's children, and hopes she can feel free to drop in without notice, and reminisce with Polly.
Captain Cuttle's oracular seafaring friend Captain Bunsby is a witness to the opening of the parcel left by Sol Gills, which states that if he should not return, Walter is to inherit all that he has; secondly, if Walter too does not return, it is to go to Captain Cuttle. Bunsby then astonishes the frightened Captain, who had just been discovered at his new residence by his dreaded landlady, Mrs MacStinger, by wooing the dreaded lady out of her ill-humor. Bunsby manages to get her home, and brings the Captain's belongings back to him, which Cuttle, in his dread of the landlady, had been too afraid to do.
Mr Dombey berates Edith for her whole demeanor of indifference to him, and the pride and haughtiness which he feels should be pride for him vis-à-vis others, and not against him. He says that she spends too much, and keeps society that is unhelpful to him. Dombey also sees that Edith's demeanor towards Florence is so warm, so entirely different from her demeanor towards him, that he continues feeling the hatred of Floy that he had dreaded so many years ago.
Mr Toots, after a visit to the old Blimber Academy where he is much praised, shyly declares his adoration to Floy, who begs him not to continue, for both their sakes.
Mrs Skewton has continued to decline mentally and physically, growing more needy towards Edith, and trying to justify her counterpart mother, "Good Mrs Brown," when Mrs Skewton and Edith happen to meet with their doppelganger pair. On Mrs Skewton's deathbed, Edith stays near her, reiterating her forgiveness for her mother's part of all their past wrongs.
Dombey, still in displeasure with Edith and as a means to humiliate her, instructs Carker to be a go-between, and to inform her of his instructions about her behavior and the submission that Dombey requires. This overlapping of the personal and business relations gives Carker a new sense of power and control, and he closely observes Dombey in regard to every reaction to the discussion about Edith, Floy, etc. All the while, Carker continues obsequiously flattering Dombey's ego, and makes protestations about his regret at the position he finds himself in vis-à-vis Edith, while relishing his new control.
When Dombey and Carker are riding together, Dombey is thrown from his horse, and is saved from being completely trampled—by Carker. Carker informs Edith and Floy of the accident after bringing Dombey home under the care of the new housekeeper, & our old acquaintance & widow of the Peruvian mines, Mrs Pipchin.
Floy steals in at night, while Mr Dombey is sleeping peacefully, to kiss his head, as she sees (for the first time), in his slumber, none of the dislike and dissatisfaction that she is accustomed to seeing in his features. Witnessing to this in secret, Susan Nipper takes courage while Mrs Pipchin is drowsing at her duties as watcher of Mr Dombey, to come into the great man's presence to give him a piece of her mind. Nipper states plainly that Floy has been a faithful and kindhearted victim to his life-long neglect and mistreatment of her. Mr Dombey helplessly calls out for someone to intervene and take Susan away, but only after she has said what she came to does Mrs Pipchin enter, dismissing Susan with a month's notice. Susan, however, leaves almost immediately, to the dismay of Floy—who doesn't know, but suspects, that something related to herself is the cause. Susan, in leaving, is accompanied by the faithful Mr Toots, who takes her to dinner before seeing her to the coach that is to take her back to her home in the country.
Rob the Grinder, meanwhile, lackey to Mr Carker, continues to be haunted by the doting Mrs Brown. He comes to realize that there is some connection, some old animosity, felt by Mrs Brown and Alice towards Carker. Rob is all confusion and fear that Mr Carker will come to find out that he knows these two.
Carker the Manager, aggravated by the presence of his humbled brother John who has quietly entered his rooms—and who would willingly have left as quietly—to deliver some letters, asserts that he knows his brother, or any of Dombey's underlings, would be happy to see Dombey humbled.
"There is not a man employed here, standing between myself and the lowest place (of whom you are very considerate, and with reason, for he is not far off), who wouldn't be glad at heart to see his master humbled: who does not hate him, secretly: who does not wish him evil rather than good and who would not turn upon him, if he had the power and boldness. The nearer to his favour, the nearer to his insolence; the closer to him, the farther from him. That's the creed here!"
John Carker protests that he only wishes him well, but Carker the Manager professes not to believe it; whether to egg his brother on to a confession, or to justify his own feelings about Mr Dombey. Carker's teeth are now coming out in all their biting cruelty, as we see a more overt confession of his real feelings towards his superior.
Meanwhile, Floy has become a young woman…
"Thus living, in a dream wherein the overflowing love of her young heart expended itself on airy forms, and in a real world where she had experienced little but the rolling back of that strong tide upon itself, Florence grew to be seventeen. Timid and retiring as her solitary life had made her, it had not embittered her sweet temper, or her earnest nature."
A final humiliating and bitter confrontation between Edith and Dombey–as Dombey berates her again and requests her presence at a formal dinner, presumably to celebrate their 2-year anniversary–takes place in front of Floy and Carker. Edith, enraged long past endurance, requests a separation, which Dombey considers ridiculous and unthinkable. That night, even turning away from Floy in shame, Edith flees the house with the one who can bring Dombey the most humiliation: Carker the Manager. Floy, after recovering from a faint at seeing her stepmother so altered in her demeanor and realizing what had happened, goes to her father to try and comfort him, little hope as she has of ever being an object of care to him.
But her reception is the final blow, so to speak: her father strikes her.
"…in his frenzy, he lifted up his cruel arm, and struck her, crosswise, with that heaviness, that she tottered on the marble floor; and as he dealt the blow, he told her what Edith was, and bade her follow her, since they had always been in league."
Florence, acknowledging at last that she is essentially an orphan in the world, flees the house. She is followed by her faithful dog, Diogenes. They go to the instrument maker's shop, and Captain Cuttle, supremely honored by Floy's trust, welcomes her and prepares a room for her. Mr Toots visits, in a state of romantic dejection, and the Captain is afraid of Floy's being discovered there. But he leaves none the wiser, and the Captain keeps watch upon the exhausted Florence.
"Long may it remain in this mixed world a point not easy of decision, which is the more beautiful evidence of the Almighty's goodness—the delicate fingers that are formed for sensitiveness and sympathy of touch, and made to minister to pain and grief, or the rough hard Captain Cuttle hand, that the heart teaches, guides, and softens in a moment!

Florence slept upon her couch, forgetful of her homelessness and orphanage, and Captain Cuttle watched upon the stairs. A louder sob or moan than usual, brought him sometimes to her door; but by degrees she slept more peacefully, and the Captain's watch was undisturbed."
Discussion Wrap-Up
Whimsy, and What We Loved
I think the Stationmaster has hit the nail on the head:
And what a gorgeous thought from Rob:
The Railway
I quoted Harry Stone's Dickens and the Invisible World on twitter, regarding the "monster" railway:
"Dombey is the first English novel to translate the railroad into artistic vision…the railway is realistic artifact, industrial emblem, and wild supernatural force…" 🧵1/2
🖼️ JMW Turner "Rain, Steam & Speed"
(Thanks to @chrisocco5 and Peter Ackroyd re: the image. Perfect.)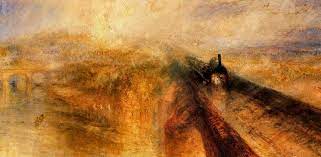 🧵2/2 "…The train is an ambiguous industrial servant, rushing Dombey toward his desire, but since his industrial ethic is distorted, his desire is self-wounding, and the train hastens him toward his destruction."
~ Harry Stone, Dickens & the Invisible World
#DickensClub
Originally tweeted by 🎩🖤🌸 Rach (@wren_and_paper) on 12 Mar 2023.
Dickens's "Writing Lab": Characterization, Plotting and "Fake-Out Deaths"; Doubling
The Stationmaster reflects on whether the plotting of Walter's fate is executed well, Mrs Chick's presence at the dinner (uninvited), and where our sympathies lie in the "transaction" between Dombey and Edith:
Chris responds about "the Mrs Chick incident," and the "slight" felt by Mrs Chick:
And continuing the thread on Miss Tox, the Stationmaster comments on her surprising shrewdness in regard to the Major:
I commented on the "doubling"–a technique which Dickens is a master of–between our two daughter-mother pairs, Edith/Mrs Skewton, and Alice/Mrs Brown:
Dana agrees, and is particularly fond of this technique, "when well done":
Characterization #1: the "Opaque" Mr Dombey, and the Timeline of Funeral-to-Marriage
In a previous week, Dana commented on the "opaque" Mr Dombey. We continued to discuss his elusive character quite a bit this week. Daniel asked about what might be a chink in the armor–his acknowledgement of some regret about sending Walter away:
Chris responds, as did Dana:
In continuation of this analysis of Dombey's character, Chris sleuths out the possible timeline of Dombey and Son, from little Paul's funeral to Dombey's remarriage. (The Hamlet fans among us might say, "it followed hard upon," one way or another! "The funeral baked meats…" etc.)
But Hamlet isn't the only Shakespeare reference here. Daniel applauds Chris's research, and compares the Dombey-Floy relationship to a Lear-Cordelia:
I too am grateful for Chris's timeline, and agree with her that 18 months might even be too "generous." (Certainly, it can't be more than that?) And this all recalls to my mind what Chris had brought up earlier: what Dombey wants is not a wife and life-partner, but an heir:
Dana brings it back around to a key point, and a recurring theme in Dickens: the transactional versus relational.
Rob also has a marvelous post about the potential timeline, based on clues from the time of the year, and hurricane seasons:
Chris considers this, and is still inclined to lean toward the 18-month timeframe, as is Rob, ultimately:
Characterization #2: Mr Toots
Here, Chris does justice to the marvelous Mr Toots, and even considers him as a kind of foil to Mr Dombey himself:
Characterization #3: Rob the Grinder, and the Heep-like Underlings
The Stationmaster then brings up a wonderful point about Rob the Grinder, and a certain character type that we will see recurring in Dickens, perhaps best immortalized in Uriah Heep:
Lenny responds about this character type, "representative of the uneducated and impoverished souls…young men who have come under the tutelage of older, more forceful personalities," the forceful personalities such as Fagin's and Sir John Chester's:
Dickens and Women; Characterization #4: Edith Dombey
We continue our ongoing theme of "Dickens and Women" with a highlight of one of Dickens's most fascinating characters: Edith Dombey. She is the Stationmaster's favorite character in Dombey and Son:
I wrote on twitter (pardon the grammatical error! *Its!) about that "knockout" of a chapter, Chapter 47, "The Thunderbolt," and suggested that Dombey and Son is a women's book. Here is my tweet, with Dr Christian's marvelous response. (Don't you want to see his entire marked-up book?)
Dana finds herself "sympathetic to both Edith and Alice," hoping that they will "at least find some peace and freedom from the mothers who have twisted them," and the society that has done so:
Lenny reflects on this idea, comparing it to Nicholas Nickleby, which he had dubbed a "women's novel," fearing however, in Dombey and Son, that "the Patriarchal UMBRELLA that hovers over virtually the entire novel threatens to negate virtually all the attempts by various women to assert themselves in their attempts to ameliorate the damage that the main Patriarch (Dombey) has done." Some of the women have bought into the "Dombeyism" here, and perpetuate it (e.g. Mrs Chick):
I loved Lenny's thoughts, and agree that some of the women do contribute "to the false edifice that Dombey represents," but argue that the emotional center of the novel here, with the exception of little Paul, is women-centered (unlike, for me, Nicholas Nickleby, where the emotional center was primarily Nicholas and Smike). I also consider whether we could say that the women in Dombey are the most proactive characters:
Though Chris's essay (transitioning here from Toots to Dombey) could have been placed in with our Dombey analysis, I've placed it here because of the emphasis given to the role of women in the novel, and Edith's "direct assault on the supremacy of Dombey and Son":
Lenny responds, "regarding the 'ascent' of women" in what Lenny had considered a "male-driven novel":
Lenny then reconsiders whether Dombey is really "male-driven" after all:
A Look-Ahead to Week Four of Dombey and Son (14-20 March, 2023)
This week is our final week with Dombey and Son. We'll be reading Chapters 49-62, which constitute the monthly numbers XVI-XX (the final month being a double number), published from January to April 1848. Feel free to comment below for your thoughts this week, or use the hashtag #DickensClub if you're commenting on twitter.
If you'd like to read it online, you can find it at a number of sites such as The Circumlocution Office, or download it from sites such as Gutenberg.